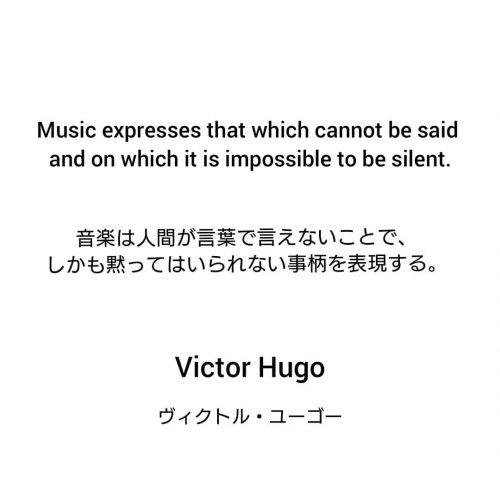 「音楽は人間が言葉で言えないことで、しかも黙ってはいられない事柄を表現する。」
ヴィクトル・ユーゴー
言葉って難しい。
特に書き言葉は。面と向かって話している時は表情やトーンで言いたいことが伝わるけど、書き言葉にすると意味が違ってしまったり、逆に傷つけてしまう時もある。
自分は話すのは好きだけど、話すのは苦手だ。
だからそれが音楽が好きな理由のひとつでもある。音楽にすると伝えやすくなるから。そして大体は正しく伝わっていると思うし、言葉以上のものを伝えてくれると思う。
でも重要なことは言葉にしないと伝わらない。それが難しい所で、本当に悩むところだ。誰に対しても毎回。(ごめんなさい…。)
だから歌が好きだ。歌で会話できる街があったら素敵だなと時々思う。でもずっとは疲れちゃうかな。💦
No Music, No Life.
"Music expresses that which cannot be said and on which it is impossible to be silent."
By Victor Hugo
Words is difficult matter.
Especially, writing. If we talk face to face, a listener can get what we want to mean by our expression and tone. However, if we make it as written words, the meaning might be different from what you mean or it might be hurt a listener, sometimes.
I love talking but am not good at talking at all.
So that is one of the reasons why I love music. Because music makes it easier to tell what you want to mean. With music, a listener get most of the meaning correctly and music tells more than what we want to mean, I think.
However, unless putting it into words, most important thing is hard to get for a listener. This is a hard point and makes me to worry anytime and towards anyone..(Sorry….)
So I love songs. Sometimes, I imagine it would be nice if there were a town where allow to communicate with singing. But it may makes us tired, if it is all day long.💦
No Music, No Life.